Get your grocery delivered to your doorstep with HappyFresh online
In the midst of your busy daily schedules, it is easy to take the fast road and resort to eating unhealthy, fast foods. This is detrimental to your health and wellbeing, making you feel constantly lethargic and unmotivated. Now, you don't need to worry about this with the help of HappyFresh! This new e-commerce company will be your personal grocery shopper so that you don't need to go through the hassle of waiting through traffic, searching endlessly for a parking spot and fighting to get the best produce with other shoppers in the grocery shop.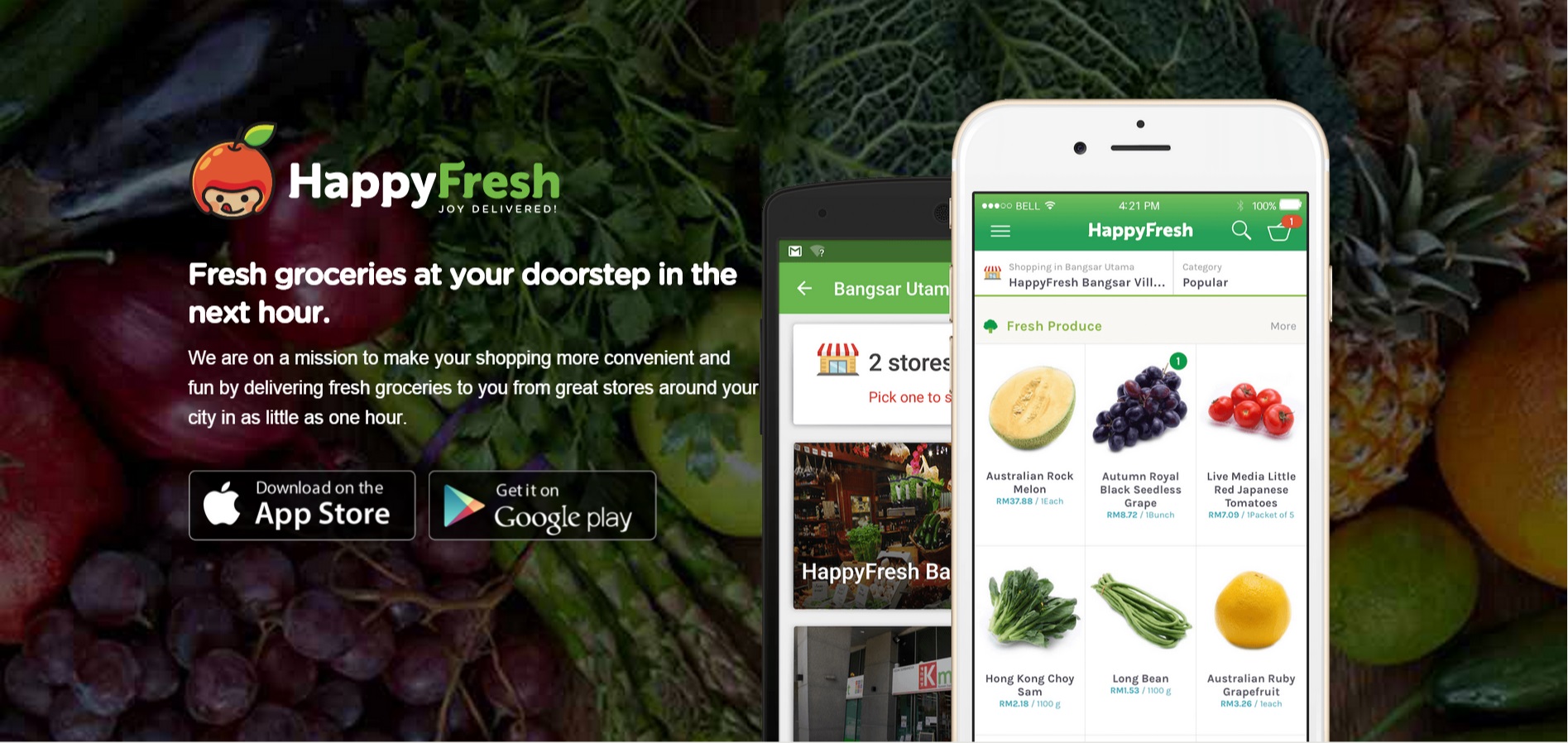 HappyFresh was founded back in October 2014 and provided their services in February 2015 on an invite-only basis. Since March 2015, their food delivery service is available for everyone to use! The company's 7 co-founders Markus Bihler (CEO), Fajar Budiprasetyo (CTO), Benjamin Koellmann (COO), Dr. Konstantin Lange (CFO), Kai Kux (CCO), Tim Marbach (Executive Chairman & investor) and Stefan Jung (advisor) are all experienced in the tech business, giving HappyFresh a very promising future.
HappyFresh's grocery shopping services is simple and efficient, delivering your grocery shopping in as little as an hour! All you have to do is download their app available on Apple's App Store and Google play, and you are good to go in ordering groceries online. HappyFresh is really a God send app from heaven for time-strapped shoppers. Now you have one thing less to worry about with HappyFresh as your online grocer. In ensuring that your fridge is always filled with fresh food delivery produce, you can eat healthy on the go! You may be wondering, "How will I know that what I'm getting is fresh?" HappyFresh shops at some of the most well-known retailers in the country and personally selects your orders for you. That's how you will know that what you are getting is the best of the best.
Buy grocery online with HappyFresh
HappyFresh, Happy shopping! Getting all your cooking ingredients with HappyFresh is fastest and easiest way to go. Now you can conveniently shop from anywhere you may be. From the moment you open their online delivery app on your mobiles, you will be presented with a list of great stores nearby you. If you'd like, you can also search for your favorite ones manually. After selecting the store you'd like to get your groceries from, browse through the categories or simply search by name of your favorite items. You can then pick a timeslot for the groceries delivery services to arrive when you are home. Alternatively, you can request for your orders to be left outside your door. But not to worry, the team at HappyFresh will ensure that your precious groceries are well packed to ensure that they stay fresh. And if you are still worried, you can check on your delivery status and track your order from the time they are being carefully and meticulously selected by a HappyFresh shopper up to the time it arrives at your door. With such a transparent service, you know that you can trust HappyFresh to fulfil your local grocery delivery.
HappyFresh is also always open to feedback so that they can continuously improve. So don't forget to rate them after you receive your order. HappyFresh always puts their customers first in delivering the best service possible. In doing so, HappyFresh will give you Free Delivery on your first order! And if you want more discounts and promotions, sign up for their newsletter to be in the loop of all things HappyFresh.
Fantastic offers when you shop groceries online with HappyFresh
With so many food home delivery services, you are spoilt for choices. But you know that they are not always the healthiest and the best for you. So the next time you want to shop for food online, order with HappyFresh. You will have the satisfaction of knowing that you are nourishing your body with healthy wholesome food.
Best of all, you have the flexibility and freedom of choosing exactly what you want and when you want it. HappyFresh takes grocery and online shopping to a whole other level. Not just that, now you can also find HappyFresh coupons & vouchers to enjoy even greater savings. Spend less for more!